Fall Season
Welcome to Strawberry Vale preschool. The weather has been chilly and wet, so we have moved indoors a few times. The kiddos loved the change of scenery. Our classes are usually outdoors, so make sure to bundle up your kiddos for chilly conditions: gloves, booty's, rain gear, warm hats and spare clothing in case they get wet. Can always take off a few layers if need be or if we move indoors.
Sensory Play
The Frogs class had a blast playing with the mini kitchen set, playdough bakery, we had circle time and they played with dolls and all sorts of toys. The little ones practiced their drawing skills, practiced cutting, and used toy tools like the hammer. The Frogletts had fun with dinosaurs and even made a huge city out of block towers for their little dino- buddies. "Reminder to parents: fairy themed play; check pockets for little gems "fairy dust" before doing the laundry.
Fundraising
At Strawberry vale preschool, we are a cooperative school, meaning, we fund-raise each year to help pay for necessities, maintenance and for new things for the school. This year we are aiming for a new playground.
Both Purdy's and poinsettia orders have been completed. Purdy's has raised over $2000 for the school!
Another fundraiser we have going is through the infamous Scolastic Book reading club. Every order you make, a small percentage goes to our little school. Interested in labels? Check out Mableslables.ca. Check back here every month for updates on what's going on, on the fundraising train.
Fun Snacks for the Kiddo's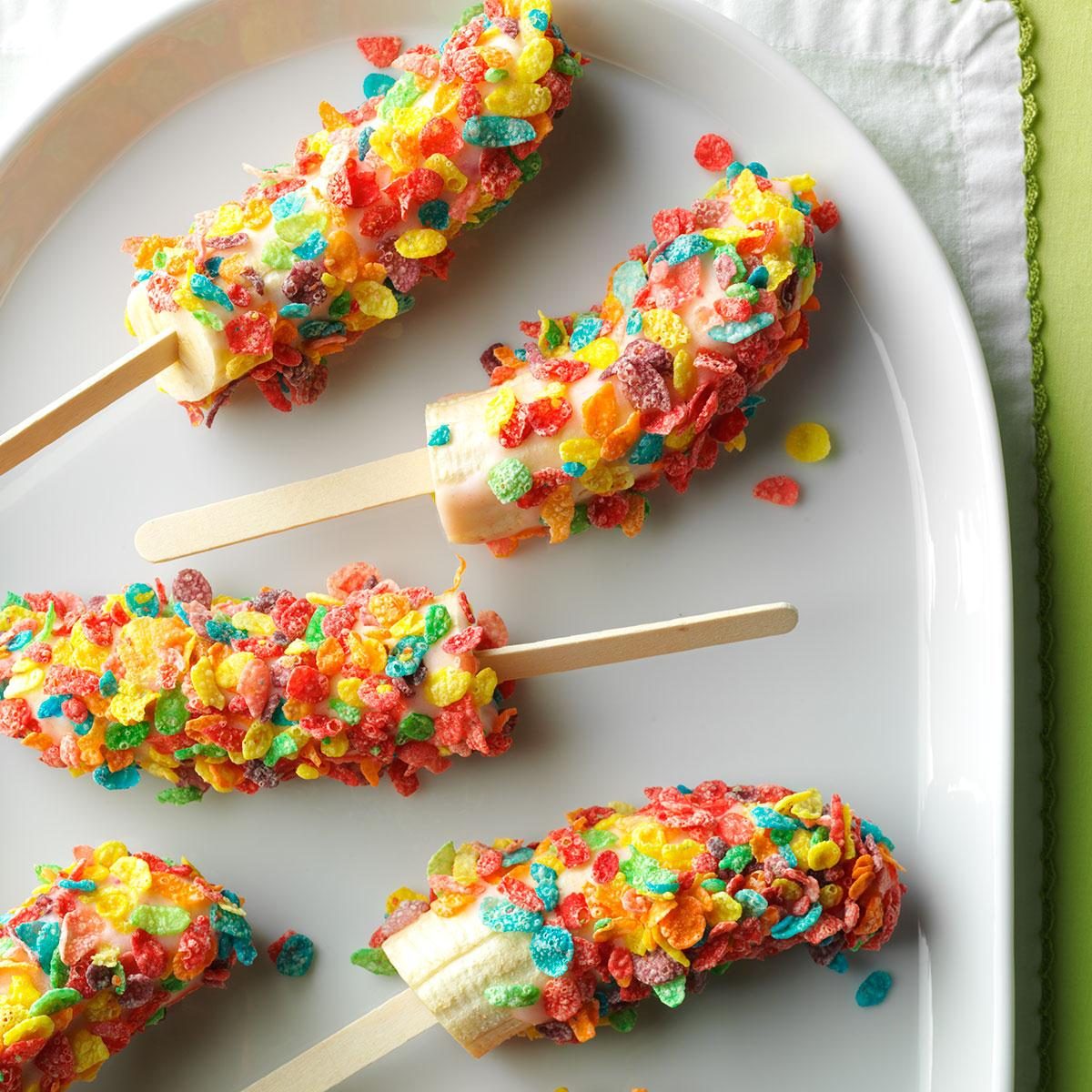 Banana fun pops
You will need:
3/4 cup strawberry/vanilla yogourt
2 cups of your kiddo's favourite cereal
4 medium bananas, peeled and cut crosswise in half
8 wooden pop sticks
Place yogourt and cereal in separate shallow bowls. Insert pop sticks through the cut side of the bananas. Dip bananas in yogourt, then roll in cereal to coat. Transfer to waxed paper-lined baking sheets. Freeze until firm, about 1 hour. Transfer to airtight freezer containers; seal containers and return pops to the freezer. Then presto!
Wrap Up
Duty parents to return to full days in January has been put on hold until December to see what changes are brought on with mandated vaccines in public settings and the vaccine cards. Any connections for a couple giant boxes that can be delivered to school? Also any contacts for people with old building plans or building books that can be cut up? Email teachers.strawberry@gmail.com.
Fun facts:
Tomatoes and avocados are actually fruits, not vegetables. It is impossible to lick your own elbow. Try it out 😉 Kangaroos can't walk backwards.