Spring Season
Welcome to Strawberry Vale preschool. The little house with little super heros.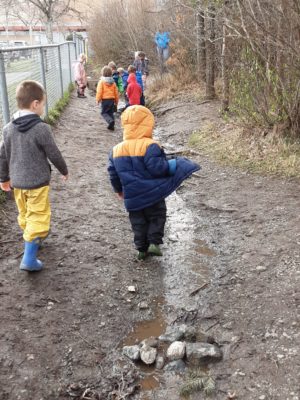 Peek of the Month
The sun is finally starting to show her beautiful face and warmth, which makes play time outside much easier and enjoyable for our little kiddos. Loving our time connecting with nature and the land in our Forest. Huge thank you to Teacher Jen's mother for adjusting our costumes to make them outdoor friendly. Our kiddo's really love dress up time, we always have quite the mix of prince/princess, police officers, superheroes and butterfly fairies.
Flowers are starting to peek out of our planter boxes, so spring is right around the corner! One of our fabulous neighbours gifted us long tube-like boxes, and the children had a blast playing a new game we like to call shoot ball … Our little's loved it and had such a blast, Teacher Matt got silly and would "accidentally" bump into it sending balls flying everywhere. It was a big hit. Our new outdoor gazebo shelter has arrived and was assembled over spring break. Yay! We would like to say a big thank you to the families that offered their time and skills to help build it. …Looking forward to having our picnic table and backpack area covered again, no more soggy kiddos!
Note parents: We have moved back to outside days and the weather will be chilly for a while yet so please bring gloves, booty's, rain gear, warm hats and spare clothing in their backpacks in case they get wet. Please be advised that this is the season of runny noses and coughs, please assess your kiddos health prior to drop off.
Fundraising
At Strawberry Vale Preschool, we are a cooperative school, meaning, we fund-raise each year to help pay for necessities, maintenance and for new things for the school.
Fundraising update:
1) Hilltop mothers day fundraiser has officially started! We have Bell Pepper plants, Strawberry plants and of course multiple, beautiful flower baskets to choose from. Such a great selection this year. Deadline for orders needs to be handed in by APRIL 1ST 2022.
2) Auction items are starting to come in, below is a link to a google doc with a list of local businesses. If you've contacted a business with a donation request, please add them to the list and mark your name beside it so that we don't have multiple families contacting the same place for donations. So far generous donations have been received from: Bosleys, Sailor Jack, Mr. Pets, Cascadia Liquor, and more.
https://docs.google.com/document/d/1K_0c3Q1aM6UKYnIwCfe8GYuNVvQV16QjcXLsp1dFnVw/edit?usp=sharing
Bottle Drive: Please save your empties and return to depot under Strawberry Vale Preschool Account, one of the participating bottle depots is located at 4261 Glanford ave.
Our ongoing fundraiser we have throughout the school year is the infamous Scolastic Book reading club. Every order you make, a small percentage goes to our little school.
Interested in labels? Check out Mableslables.ca RE:support fundraising strawberry vale.
Check back here every month for updates on what's going on, on the fundraising train. Any questions? Reach out to your fundraising team!
Enrollment
Current Availability: Enrollment has started. Next year's bears and ladybugs classes are full, frogs have spaces left. Please contact svpenrollment@gmail.com to reserve your spot for the upcoming new term
Fun Snacks for the Kiddo's
Easter Chick Eggs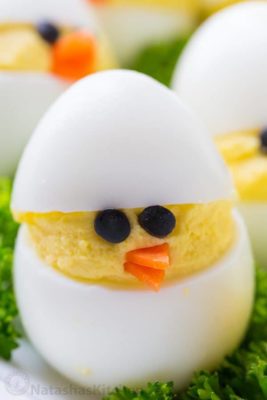 Ingredients
6 hard-boiled eggs, peeled
1 tablespoon mayonnaise
½ tablespoon and ¾ teaspoon yellow mustard
salt and ground black pepper to taste
½ carrot, cut into rounds
6 slices canned black olives, or as needed
Step 1
Slice through the top 1/3 of each egg, ensuring some of the yolk is included in the slice. Carefully remove the egg yolk from the bottom portion of the egg using a spoon and transfer to a bowl.
Step 2
Mix egg yolks, mayonnaise, mustard, salt, and pepper together in a bowl. Fill a piping bag or a plastic bag with a corner snipped with the egg yolk mixture. Pipe egg yolk mixture into the hollowed egg whites creating the 'chick', ensuring there is enough filling to add 'eyes' and a 'beak.'
Step 3
Slice small wedges out of the carrot rounds creating 12 'beaks'. Add a 'beak' to each 'chick'.
Step 4
Slice olive pieces into small squares to be used as 'eyes.' Add 2 'eyes' to each 'chick.' Place the egg tops onto each 'chick' to look like a chick peeking out of the egg.
Fun facts:
The laziest animal in the world is the koala. They sleep for around 20 hours a day!
The colour of the skin of an adult polar bear is, surprisingly, black.
In order to recognise each other, squirrels kiss when they encounter.
There are studies that show cows produce more milk when they listen to quiet music