Spring Season
Welcome to Strawberry Vale preschool. The little house with little rising stars. Spring is finally here!
We have moved back to outside days and the weather will be chilly for a while yet so please bring gloves, booty's, rain gear, warm hats and spare clothing in their backpacks in case they get wet. Please be advised that this is the season of runny noses and coughs, please assess your kiddos health prior to drop off, children are more contagious before symptoms hit. Now that it's getting warmer out, just remember that we have a NO FLIP FLOP rule at preschool. Closed, strapped sandals and crocs are fine but flip flops are not safe in our environment. Clothing should be easily layered to suit our unpredictable sunny, wet, windy days. Please consider sunscreen, hats and glasses as the weather gets warmer/sunnier.
Peek of the month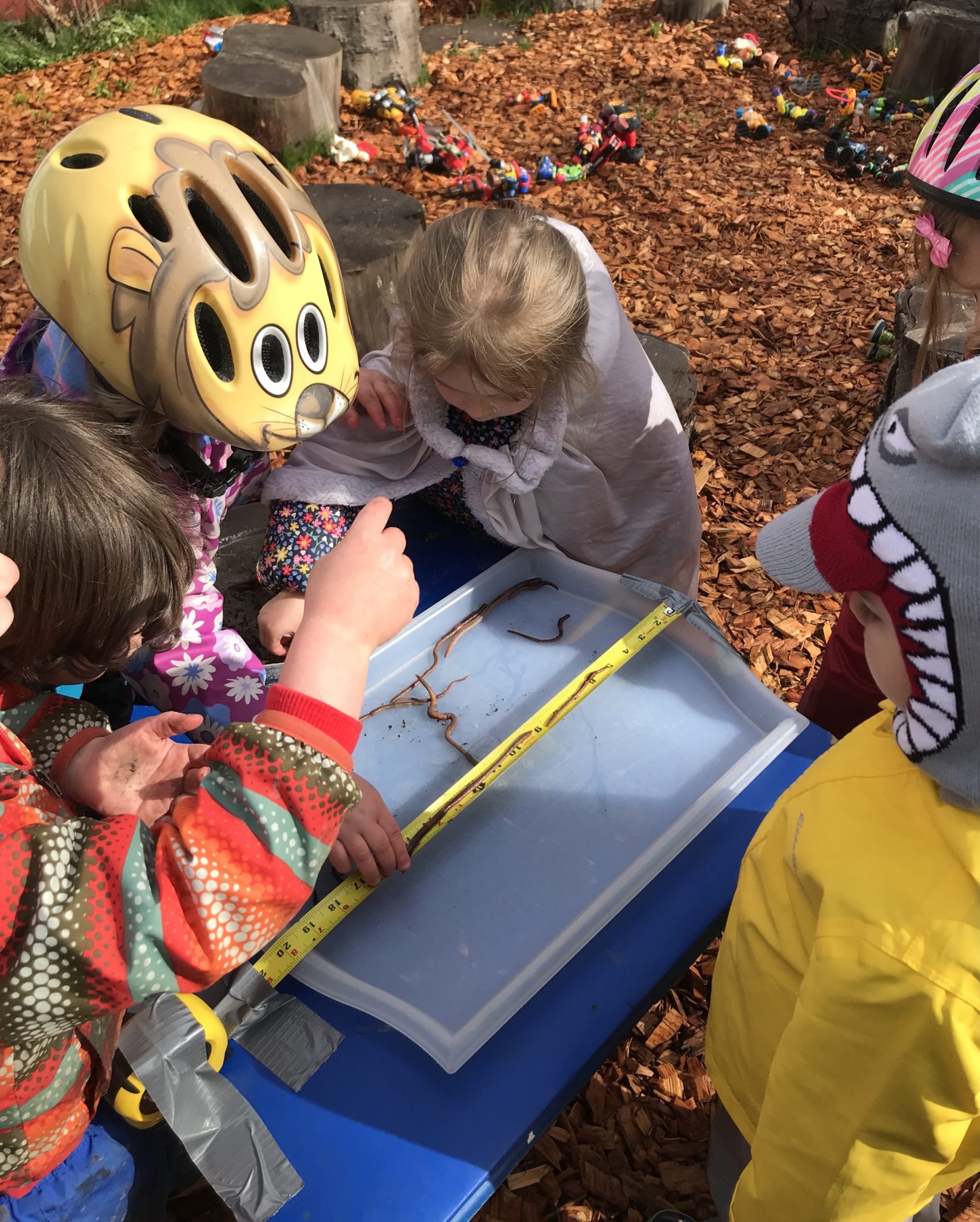 Our little kiddos love to have dance parties and imaginary play in the little house.
The pro mini dancers and dress up masters also like to do this outside as well because spring weather is finally allowing it. The munchkins love to sit in the sandbox and play with the water, so even though it's nice, maybe send them with rain pants so they can comfortably play without becoming too much of a soggy mess.
We started experimenting with cornstarch and water. When put together, it makes this magical, fun goop that you can pick up and squeeze like a solid and then turns to slippery gooey liquid when you release the pressure on it. Loads of fun, but I recommend this is played with outside as it can get a tad messy. Messy = fun! We would like to give a big shout out to the super generous time and effort of Amelia's family in Bears…They made a little planter box to paint, plant wildflowers and peas in, for each of our mini humans. Huge thank you! We even packed up our wagon and headed through the forest paths to Rosedale Park. We found beautiful flowers and treasures. Wildlife has graced our little yard, lizards are everywhere. They are so fast and hard to catch but makes for a fun game of chase (don't worry, these teeny, tiny dinosaurs do not bite and will not cause any harm to our little superheroes)
Fundraising
At Strawberry vale preschool, we are a cooperative school, meaning, we fund-raise each year to help pay for necessities, maintenance and for new things for the school.
SUPER HUGE THANK YOU to the amazing families that helped with the construction of our brand new Gazebo! It looks amazing and will give our little tots a large dry/shaded area to sit and play on rainy/sunny days. Thank you all so much!
Another HUGE thank you to our awesome families for the fresh, new alder chips that replenished our yard! It has helped keep our yard less muddy. Your time and commitment to our little school is very much appreciated. We couldn't have done this without the help of our families. Your teamwork keeps this little school thriving. Thank you!
Fundraising update:
The Strawberry Vale Preschool Online auction: The auction is live! Head on over to https://strawberryvalepreschool.org/auctions/ to see the variety of items open for bidding. Remember, 100% of the proceeds go towards our preschool!
Hilltop mothers day/ Purdys fundraisers have come to an end! It went very well, thank you to all who participated.
Bottle Drive: Please save your empties and return to depot under Strawberry Vale Preschool Account, one of the participating bottle depots is located at 4261 Glanford ave.
Our ongoing fundraiser we have throughout the school year is the infamous Scholastic Book reading club. Every order you make, a small percentage goes to our little school.
Interested in labels? Check out Mableslables.ca RE:support fundraising strawberry vale.
Check back here every month for updates on what's going on, on the fundraising train. Any questions? Reach out to your fundraising team!
Happy fundraising 🙂
Fun snacks for the kiddo's
Everyone knows, our little heroes love to snack (parents as well haha) One of our little students would like to share what she loves to snack on that's healthy but tasty. Pepperoni, dried fruit, yogurt with jam (sounds interesting and super tasty!), applesauce, apple slices, corn chips, and jam sandwiches. Thank you for your amazing suggestions. 🙂
If there's a healthy (peanut-free) snack that you and your precious little one would like to share with everyone, please feel free to email me at tiabereska@gmail.com.
Wrap up: Enrollment
Current Availability: For the upcoming new school year starting in September. Ladybugs – FULL(waitlist is being taken) Bears – 2 open spaces and Frogs – up to 11 spaces available. Please contact svpenrollment@gmail.com to reserve your spot for the upcoming new term
Fun facts:
Flamingos are not pink. They are born grey, their diet of brine shrimp and blue green algae contains a natural pink dye called canthaxanthin that makes their feathers pink.
The platypus is one of the few living mammals to produce venom. The venom is made in venom glands that are connected to hollow spurs on their hind legs
Roosters prevent themselves from going deaf due to their own loud crowing, by tilting their head backs when they crow, which covers their ear canal completely, serving as a built-in ear-plug.
Baby elephants suck on the end of their trunks for comfort. Just like babies and young children suck their thumbs, awwww.