Spring Season
Welcome to Strawberry Vale preschool. The little house with little rising stars. Spring is finally here!
Peek of the Month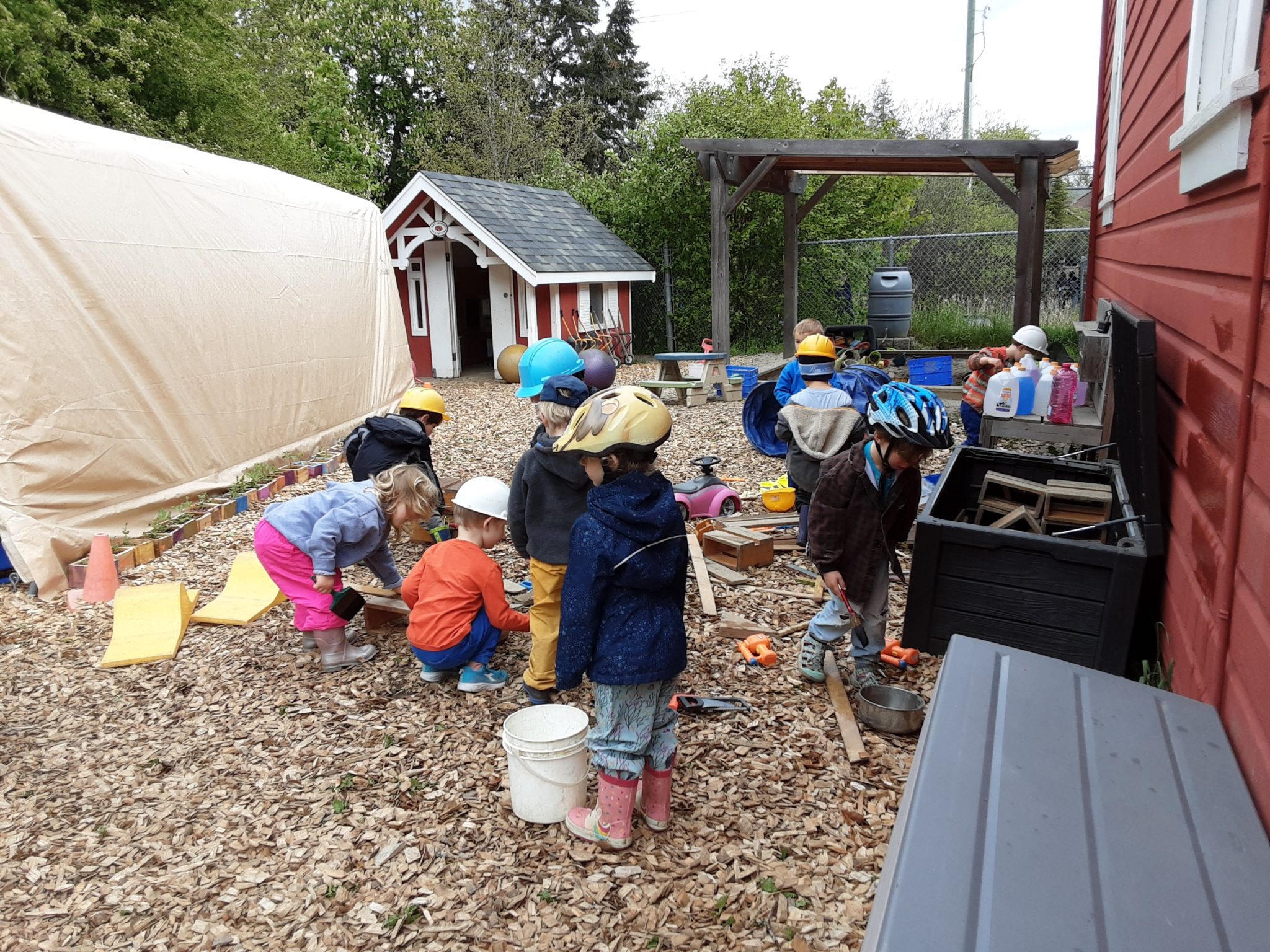 May was full of fun. Recently our little cuties rocked out on bucket drums. Outside play has been grand as usual. Inspired by forest exploration and examining real bird nests in the classroom, the children tried their hand at building bird nests using a clay base and small twigs, dry grasses, leaves, lichen and moss from our forest to reinforce the nest and create a cozy spot for the birds. Our little kiddos also tried out experiments with cups of water with shaving cream on top, coloured vinegar and a pinch of baking soda. Everyone was excited to see the mini explosion of colorful fizzyness! They played with big heavy buckets of water and had loads of fun running around screaming at the top of their lungs. They pretended to be astronauts that blasted off into space from our classroom space station which will turn into something new this upcoming week. We have been keeping an eye on our individual plants starting to sprout, everyone is so excited to see what their baby plants will turn into. We set up a doctors office where you can come with injured dolls and animals to get their $5000 check up… It's very expensive but for a good cause. The kids also got to meet a real live beekeeper! What will the next month bring? Stay tuned for the next fun update 🙂
Year end picnic June 12 at school field 11am-2pm
Bring your own picnic for your family, water & cupcakes will be provided
Fundraising Update
Thank you to everyone who collected items and made bids for the online auction- We raised over $500 for the preschool!
Bottle Drive: Please save your empties and return to depot under Strawberry Vale Preschool Account, one of the participating bottle depots is located at 4261 Glanford ave.
Our ongoing fundraiser we have throughout the school year is the infamous Scholastic Book reading club. Every order you make, a small percentage goes to our little school.
Interested in labels? Check out Mableslables.ca RE:support fundraising strawberry vale.
Check back here every month for updates on what's going on, on the fundraising train. Any questions? Reach out to your fundraising team!
Fun Snacks for the Kiddo's
Sometimes it can be tricky to get our littles to eat fruit. But they will suddenly want it when it's served to them in a WAFFLE CONE! That's all you need to do. – waffle cones and the fresh fruit of your choice like berries, fresh slices of peaches, or seedless grapes. Inside the cone, line it with parchment paper before putting the fruit in or else it will get soggy. Pro tip: peel and dice(tiny) some cucumber and sneak some in there for a splash of veggie, shhhhhh don't tell anyone ;P unless they like veggies hahaha
If there's a healthy (peanut-free) snack that you and your precious little one would like to share with everyone, please feel free to email me at tiabereska@gmail.com.
Enrollment Current Availability
For the upcoming new school year starting in september. Ladybugs – FULL (waitlist is being taken) Bears – 2 open spaces and Frogs – up to 11 spaces available. Please contact svpenrollment@gmail.com to reserve your spot for the upcoming new term
Fun Facts
A group of pandas is called an "embarrassment". Probably because they are so silly and clumsy.
Just need 5 to 30 minutes of rest in 24 hours. I gotta say, this momma is super jealous… imagine all the things we could do if this were the case for humans lol
In one gram of soil, there are about 10 million bacteria living in it. I'll never look at dirt the same again :/
A queen bee lays about 1,500 eggs in a day. Busy lady!