Gail's Gab June 2016
It is sad but true…our year is coming to a close very quickly! We have been so busy it has snuck up on me this time…Hmmmm what have we been up to you ask?

We planted our seeds for the community garden, transplanted them, watered them and are watching them grow.

31 chicks in hatched in our classroom this year, that is record breaking …. I really felt like farmer Gail this time round!

Exploring the Pond we collected slippery egg sacks which unfortunately did not end up being frogs. It seems something has taken over our little pond and there are no frogs in it at all this year. A mystery to be solved for sure.

Our seven caterpillars have morphed into 7 beautiful Painted Lady Butterflies.

Pumpkins and Squash are growing in our yard planter…should be exciting in the fall with any luck.

We went fishing at Beaver Lake and caught everything but a fish! Well except for the one that got away…it was THIS BIG!

Still to come: the school is looking forward to our annual Beach Day and Tide Ticklers program as well as Graduation, overnight family camping at Goldstream and our famous year end picnic!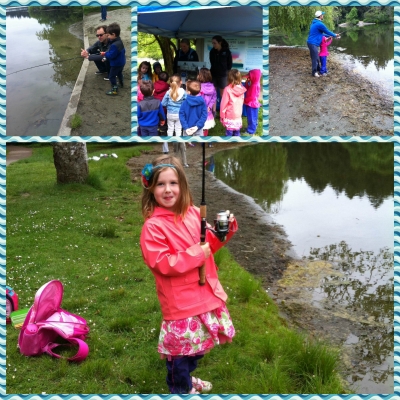 Parents pat yourselves on the back for a year well done!! This school is run by all of you and your commitment to your child's early education. I hope that you all have had a chance to learn something from watching your child at play and perhaps have taken away a better understanding, of how important it is for all of us to embrace the right of every child to be allowed to be little, live in the moment and PLAY.
I want to take this opportunity to thank every one of my preschool children and families for a fabulous year of playful learning. Each year I pinch myself to see if this is truly my job…laughing, learning, playing and loving these little people that brighten my world each and every day. Thank you for allowing me the pleasure of being a part of your child's life.
Teacher Gail