The preschoolers at Strawberry Vale went on their last field trip of the school year, the first week in June.
All the preschoolers; parents; siblings and grandparents headed to Island View Beach where the kids enjoyed the Tide Ticklers Preschool Program specially developed by the CRD to promote " the wonder of nature and the joy in its exploration".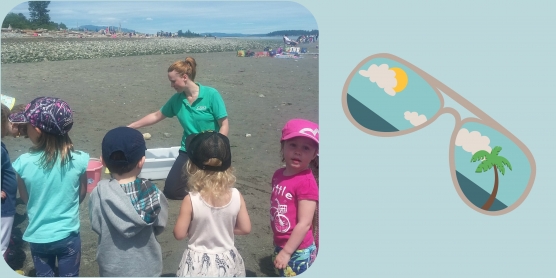 As part of the program, the kids enjoyed a puppet story learning about the importance of respecting the environment and how different aspects in the environment affect all living creatures, in this case they focused on crabs.

After the story the kids went to a "hands on" hunting expedition looking for crabs and other sea creatures that live under the rocks in the beach. They all had a turn holding a small crab in their hands and learnt to identify a male or female crab. At the end, all the crabs were released back to their homes.

It was a great outdoor learning experience for everyone.